[ad_1]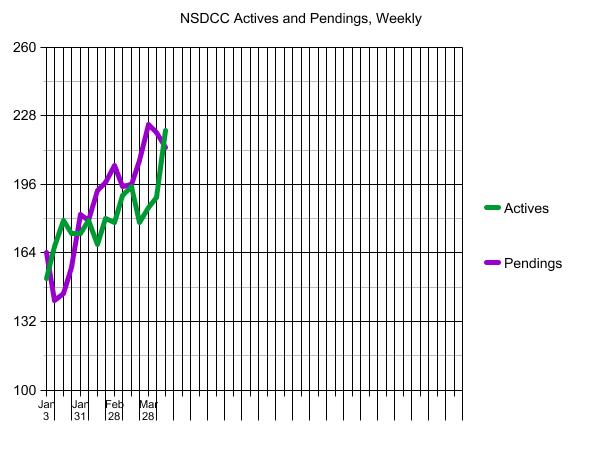 I think we can say that the statistics are starting to reflect the current environment, which is being muddled by a few factors:
There are so few listings that sellers (and listing agents) are pushing the list prices….but buyers have had enough, and the inferior properties aren't selling like they used to.
Sellers and agents are skipping the spruce up/staging extras, and buyers are being picky.
The wait-and-see strategy is addictive, and once buyers adopt it, it's hard to get off the fence.
This is the first time during the selling season that there are more actives than pendings (221 vs 213).  If it ever gets back to the normal 2:1 ratio, it's going to feel like the sky is falling!
It is rare that a seller decides to sell and then lists their home for sale the same day.  Usually, it's a plan that has been in the works for months, and any last-minute adjustments – especially on price – are also rare.  Don't be surprised if the pricing over the next two months reflects the pricing of the last two months.
~~~~~~~~~~~~~~~~~~~~~~~~~~~~~~~~~~~
The $0 – $1,500,000 Market:
| | | | | |
| --- | --- | --- | --- | --- |
| Date | NSDCC Active Listings | Avg. LP/sf | Avg. DOM | # of Pendings |
| Jan 3, 2022 | 9 | $832/sf | 35 | 36 |
| Jan 10 | 9 | $766/sf | 28 | 29 |
| Jan 17 | 13 | $773/sf | 26 | 27 |
| Jan 24 | 9 | $818/sf | 15 | 29 |
| Jan 31 | 14 | $752/sf | 14 | 31 |
| Feb 7 | 13 | $774/sf | 12 | 32 |
| Feb 14 | 11 | $826/sf | 12 | 35 |
| Feb 21 | 7 | $889/sf | 17 | 38 |
| Feb 28 | 12 | $888/sf | 17 | 33 |
| Mar 7 | 9 | $1,017/sf | 21 | 33 |
| Mar 14 | 14 | $847/sf | 18 | 31 |
| Mar 21 | 8 | $912/sf | 26 | 36 |
| Mar 28 | 10 | $914/sf | 25 | 28 |
| Apr 4 | 10 | $782/sf | 33 | 34 |
| Apr 11 | 19 | $733/sf | 21 | 36 |
The $1,500,000 – $2,000,000 Market:
| | | | | |
| --- | --- | --- | --- | --- |
| Date | NSDCC Active Listings | Avg. LP/sf | Avg. DOM | # of Pendings |
| Jan 3, 2022 | 8 | $842/sf | 52 | 36 |
| Jan 10 | 13 | $751/sf | 28 | 29 |
| Jan 17 | 16 | $736/sf | 33 | 27 |
| Jan 24 | 16 | $801/sf | 17 | 27 |
| Jan 31 | 15 | $696/sf | 14 | 34 |
| Feb 7 | 15 | $765/sf | 17 | 34 |
| Feb 14 | 10 | $726/sf | 19 | 38 |
| Feb 21 | 19 | $715/sf | 15 | 39 |
| Feb 28 | 9 | $660/sf | 12 | 46 |
| Mar 7 | 16 | $789/sf | 15 | 46 |
| Mar 14 | 17 | $837/sf | 8 | 44 |
| Mar 21 | 18 | $867/sf | 11 | 43 |
| Mar 28 | 14 | $838/sf | 15 | 48 |
| Apr 4 | 18 | $762/sf | 25 | 42 |
| Apr 11 | 23 | $774/sf | 15 | 39 |
The $2,000,000 – $3,000,000 Market:
| | | | | |
| --- | --- | --- | --- | --- |
| Date | NSDCC Active Listings | Avg. LP/sf | Avg. DOM | # of Pendings |
| Jan 3, 2022 | 18 | $1,080/sf | 127 | 43 |
| Jan 10 | 23 | $1,038/sf | 85 | 37 |
| Jan 17 | 26 | $1,044/sf | 80 | 41 |
| Jan 24 | 28 | $1,015/sf | 37 | 42 |
| Jan 31 | 22 | $949/sf | 38 | 47 |
| Feb 7 | 26 | $919/sf | 29 | 42 |
| Feb 14 | 22 | $997/sf | 37 | 49 |
| Feb 21 | 21 | $966/sf | 33 | 54 |
| Feb 28 | 26 | $905/sf | 32 | 57 |
| Mar 7 | 29 | $922/sf | 28 | 57 |
| Mar 14 | 20 | $852/sf | 26 | 58 |
| Mar 21 | 17 | $928/sf | 26 | 60 |
| Mar 28 | 34 | $927/sf | 12 | 65 |
| Apr 4 | 32 | $927/sf | 20 | 69 |
| Apr 11 | 44 | $910/sf | 17 | 62 |
The $3,000,000 – $4,000,000 Market:
| | | | | |
| --- | --- | --- | --- | --- |
| Date | NSDCC Active Listings | Avg. LP/sf | Avg. DOM | # of Pendings |
| Jan 3, 2022 | 19 | $1,230/sf | 90 | 26 |
| Jan 10 | 22 | $1,210/sf | 76 | 25 |
| Jan 17 | 19 | $1,207/sf | 86 | 23 |
| Jan 24 | 17 | $1,129/sf | 92 | 24 |
| Jan 31 | 21 | $1,172/sf | 70 | 22 |
| Feb 7 | 19 | $1,169/sf | 67 | 25 |
| Feb 14 | 19 | $1,234/sf | 65 | 28 |
| Feb 21 | 21 | $1,279/sf | 69 | 28 |
| Feb 28 | 22 | $1,214/sf | 64 | 25 |
| Mar 7 | 27 | $1,295/sf | 60 | 24 |
| Mar 14 | 27 | $1,201/sf | 65 | 27 |
| Mar 21 | 23 | $1,282/sf | 69 | 31 |
| Mar 28 | 25 | $1,253/sf | 67 | 30 |
| Apr 4 | 30 | $1,199/sf | 61 | 27 |
| Apr 11 | 32 | $1,174/sf | 62 | 31 |
The $4,000,000+ Market:
| | | | | |
| --- | --- | --- | --- | --- |
| Date | NSDCC Active Listings | Avg. LP/sf | Avg. DOM | # of Pendings |
| Jan 3, 2022 | 100 | $1,884/sf | 128 | 30 |
| Jan 10 | 105 | $1,864/sf | 113 | 29 |
| Jan 17 | 109 | $1,763/sf | 110 | 34 |
| Jan 24 | 105 | $2,130/sf | 114 | 42 |
| Jan 31 | 102 | $2,114/sf | 118 | 53 |
| Feb 7 | 109 | $2,000/sf | 108 | 50 |
| Feb 14 | 108 | $2,005/sf | 109 | 47 |
| Feb 21 | 113 | $2,008/sf | 103 | 43 |
| Feb 28 | 111 | $1,991/sf | 101 | 47 |
| Mar 7 | 115 | $1,904/sf | 91 | 39 |
| Mar 14 | 121 | $1,893/sf | 95 | 43 |
| Mar 21 | 116 | $1,905/sf | 97 | 44 |
| Mar 28 | 104 | $1,966/sf | 97 | 59 |
| Apr 4 | 103 | $1,929/sf | 97 | 56 |
| Apr 11 | 106 | $1,906/sf | 97 | 55 |
NSDCC Weekly New Listings and New Pendings
| | | | | |
| --- | --- | --- | --- | --- |
| Week | New Listings | New Pendings | Total Actives | Total Pendings |
| Jan 3, 2022 | 17 | 14 | 152 | 164 |
| Jan 10 | 39 | 18 | 167 | 142 |
| Jan 17 | 34 | 29 | 179 | 145 |
| Jan 24 | 41 | 40 | 173 | 157 |
| Jan 31 | 43 | 40 | 173 | 182 |
| Feb 7 | 43 | 38 | 179 | 179 |
| Feb 14 | 44 | 49 | 168 | 193 |
| Feb 21 | 51 | 38 | 180 | 197 |
| Feb 28 | 39 | 39 | 179 | 205 |
| Mar 7 | 54 | 37 | 191 | 195 |
| Mar 14 | 48 | 51 | 195 | 196 |
| Mar 21 | 39 | 46 | 178 | 207 |
| Mar 28 | 53 | 50 | 185 | 224 |
| Apr 4 | 46 | 40 | 190 | 220 |
| Apr 11 | 61 | 39 | 221 | 213 |


[ad_2]

Source link